How To Make A Narrow Room Look Wider
13 Tips for choosing the best paint colors, furniture, and decorating techniques to make your small living spaces look bigger.
When living in a small space, such as an apartment, Tiny Home, or other compact house, it can be hard to figure out the best way to make your narrow rooms look wider, especially without actually knocking down your walls, or completely stripping your spaces bare and ending up with a bland and empty room.
But without taking such drastic measures, there are many ways that you can trick the eye to make your rooms look bigger and wider, without having to abandon all of your favorite home decor items. So to lend a hand, we wanted to share with you a few of our favorite interior design tricks that will help to make your rooms at least look much bigger...and that's half the battle, right? 
Contents:
1. Make a Statement
2. Choose Your Room Color Wisely
3. Use Wallpaper and Decals
4. Have Furniture Match Your Wall Color
5. Compartmentalize Your Space
6. Multi-Functional Furniture and Hidden Storage
7. Use Minimizable Furniture Solutions
8. Use Furniture with Exposed Legs
9. Add Super-Chic Clear Furniture
10. Install Floating Wall Shelves
11. Use Hanging Pendant Lights
12. Use Lamps to Spread Light Evenly
13. Use Mirrors
1. Make a Statement
A great way to take the focus off the size of a narrow room and make it feel bigger is to carefully consider the home décor that you use. By adding a large piece of wall art, or an over-sized décor item like a vase on the mantle or coffee table, you are essentially creating a focal point for the room. This in turn will distract from the actual size of the space and make it feel much larger. Also, by using one or two large pieces of décor rather than lots of smaller items, you will avoid making the room feel overcrowded and cluttered. As they say… "Less is more", and in this case it is definitely true!
Shop our Décor Feature Pieces Collection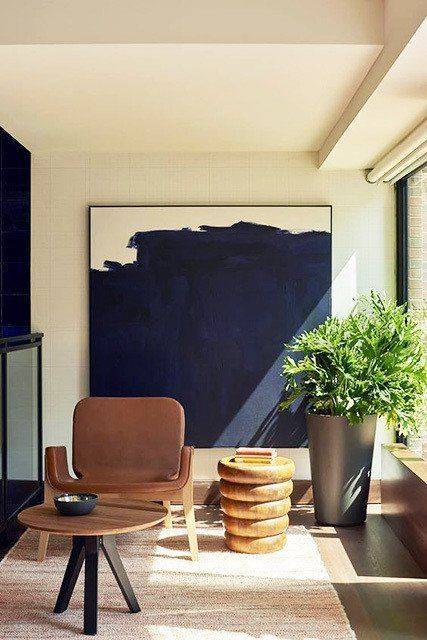 Image Source: designthefurniture.com, Pinterest 
2. Choose Your Room Color Wisely
Choose colors that will make your room appear and feel larger, like a neutral tone such as beige or white. Another strategy used by experts is to create depth in a room by using darker colors and off-setting them with lighter colored furniture. This adds a stark contrast between the two, creating depth, and inevitably making your spaces feel more dynamic by taking the focus off the size of the space and onto the more noticeable items in the room.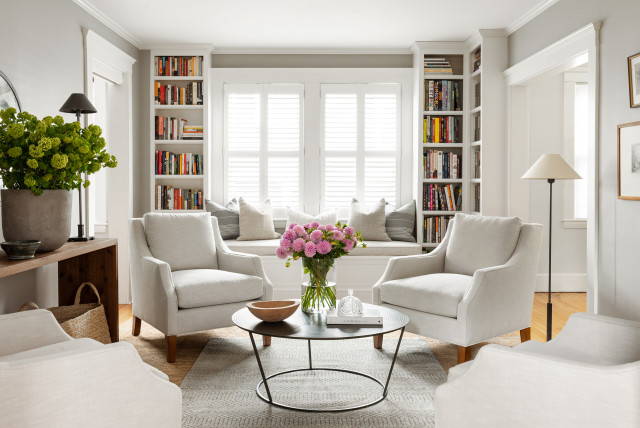 Image Source: Style At Home (www.styleathome.com)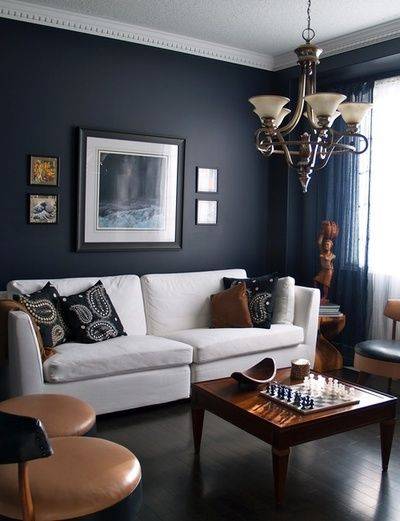 Image Source: miss adventuress, Pinterest
3. Use Wallpaper and Decals
Using a well designed wallpaper or decal pattern is another great way to make a small or narrow room look wider. Use a wallpaper mural, and install it so that the pattern extends from one wall and onto the adjacent one. This tricks the eye into seeing the two walls as one continuous surface. The more intricate the pattern, the more difficult it is to tell where one wall ends, and the other begins. Here's an example: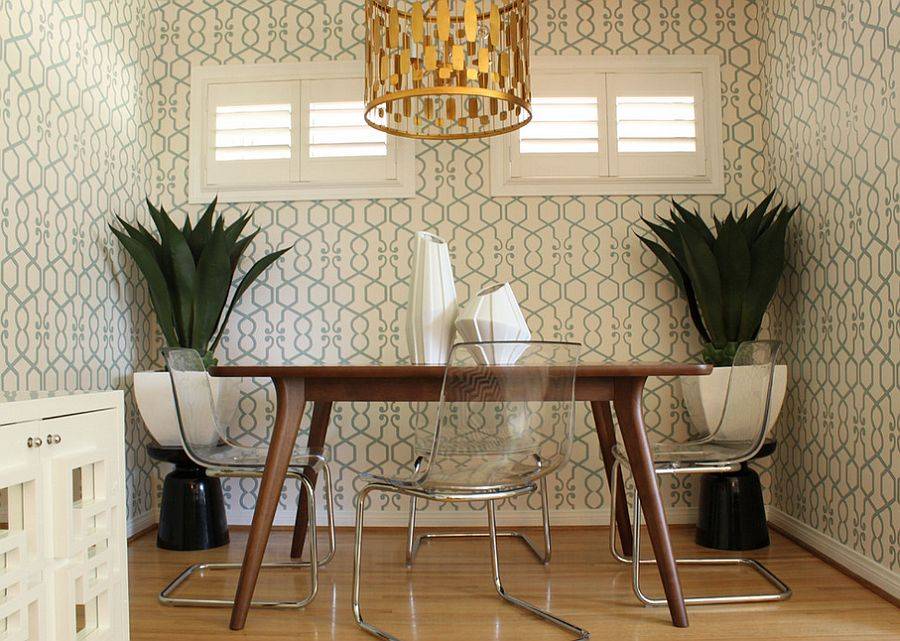 Image Source: Decoist (www.decoist.com)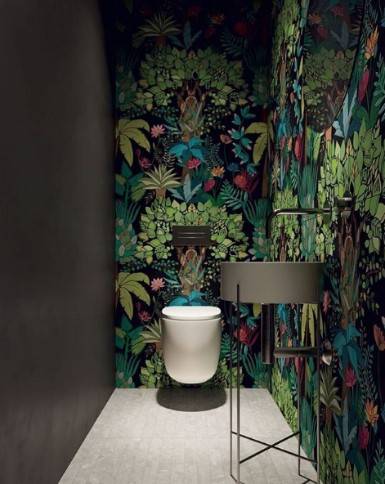 4. Have Furniture Match Your Wall Color
Understandably, repainting or wallpapering your whole space may not be a viable option for you due to a variety of reasons. These could include: you are currently renting; the cost of renovating is not in your budget; or maybe you just simply don't want to be that adventurous with your walls. If this is the case, then another great solutions for you is to choose furniture in a color that matches the color of the walls. By blending the colors, it will visually pull back your walls and expand the feel of room.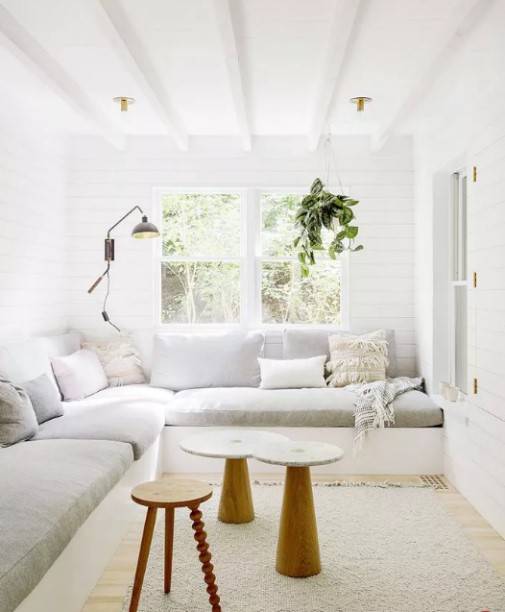 Image Source: My Domaine (www.mydomaine.com)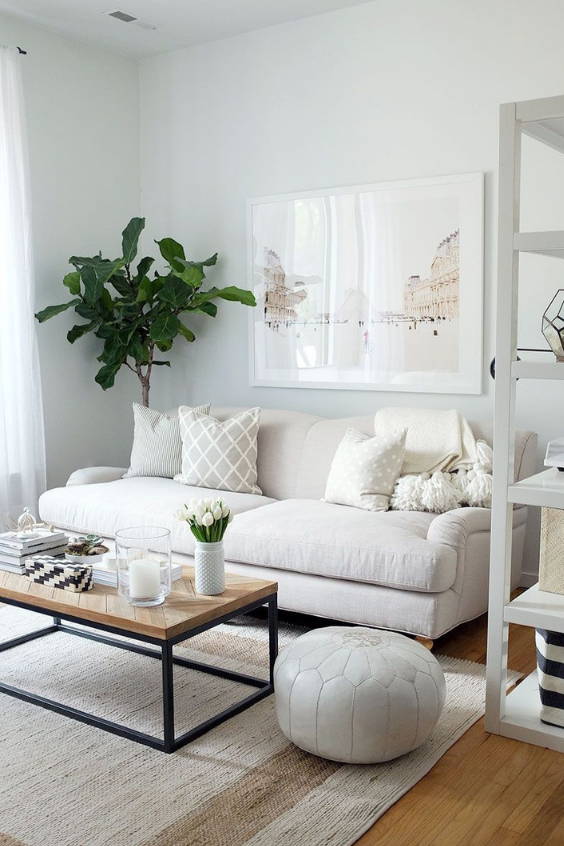 Image Source: Langria (www.langria.com) 
5. Compartmentalize Your Space
To make a narrow room look bigger, it can be a good idea to compartmentalize the room based on function. For example, if you only have a small living room, like an apartment or Tiny Home, and need to have both an area to relax on the sofa, as well as a home office to work in, you can create clear boundaries between the areas by using furniture as dividers (such as a sofa), or create clearly defined areas with the type of home décor that you use. Keeping both functional areas separate will make the room much more efficient, and therefore much more comfortable and liveable.
Use a large rug to tie the living room area together and create a distinct divide, while giving the home office a separate and slightly enclosed feeling with the use of a corner-desk and stylish office chair. Even though you are trying to divide the room into separate spaces, it is still important to establish a natural flow between the areas so that it doesn't look overcrowded or stifling. Think about the configuration of your furniture carefully and design to the size and space of your room. These tricks will also work well when designing a small kitchen setting.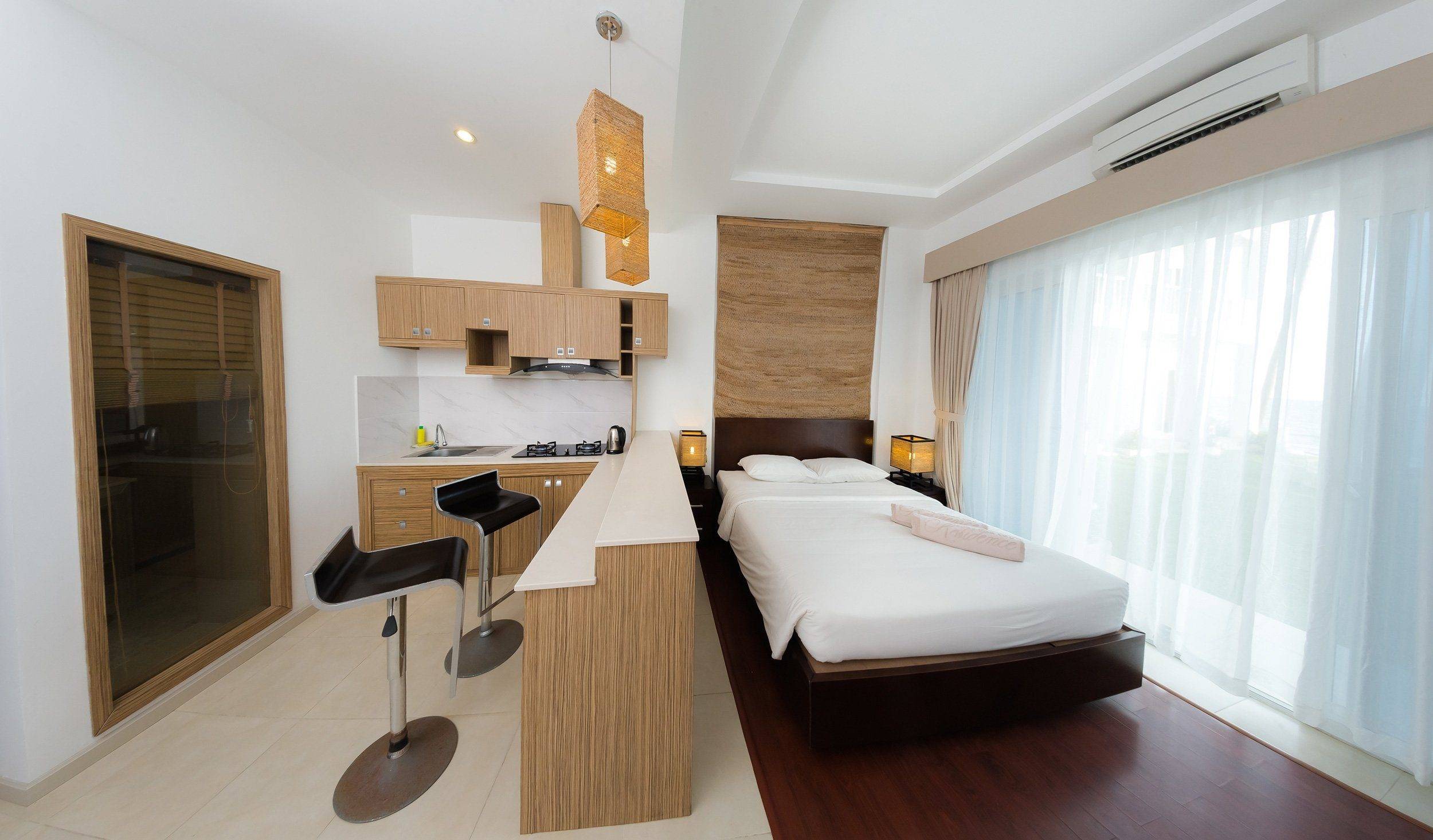 Image Source: Michaels Superstore (www.michaelsuperstore.com)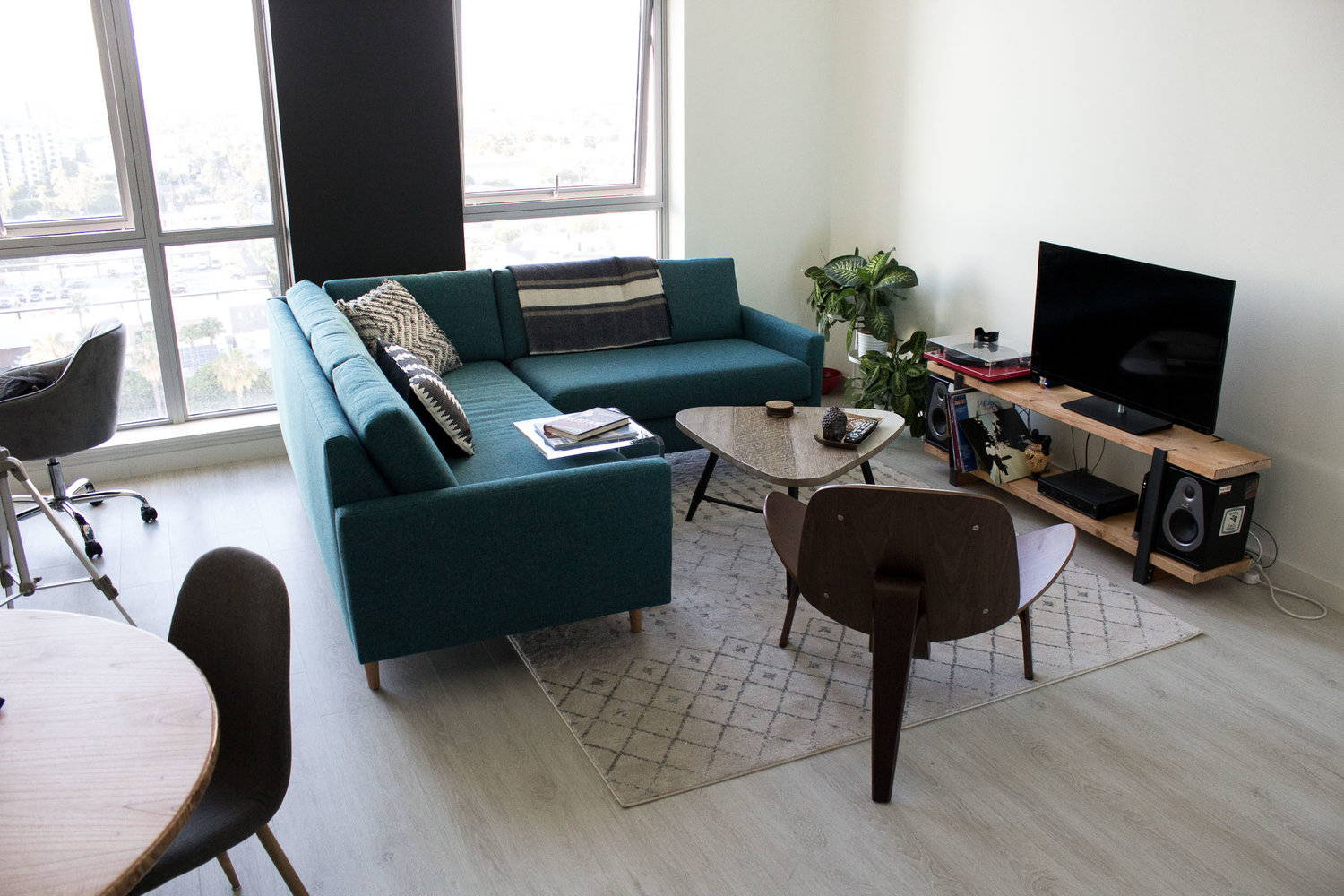 Image Source: Rachel Off Duty (www.racheloffduty.com) 
6. Multi-Functional Furniture & Hidden Storage
One of the best ways to create extra space in a narrow room or small home, is to utilize multi-functional furniture and hidden storage. A great example of this would be to add a window seat or bench that has hidden storage beneath it; all you have to do is remove the cushions and lift the seat lid to find a generous amount of extra storage space. Similarly, why not use some stylish lounge room stools, that act as a side table when not in use, and quickly convert to extra seating when guests come to visit. Once again, just lift the seat lid and you'll find bonus hidden storage.
If extra kitchen bench space is what you need, but building anything permanent is impossible due to the size of your kitchen, then why not opt for a butcher's bench cart on wheels? This will provide extra kitchen bench space for food preparation; provide additional storage with it's many built-in basket drawers and shelves; or can even be maneuvered to become a stylish breakfast bar for eating meals.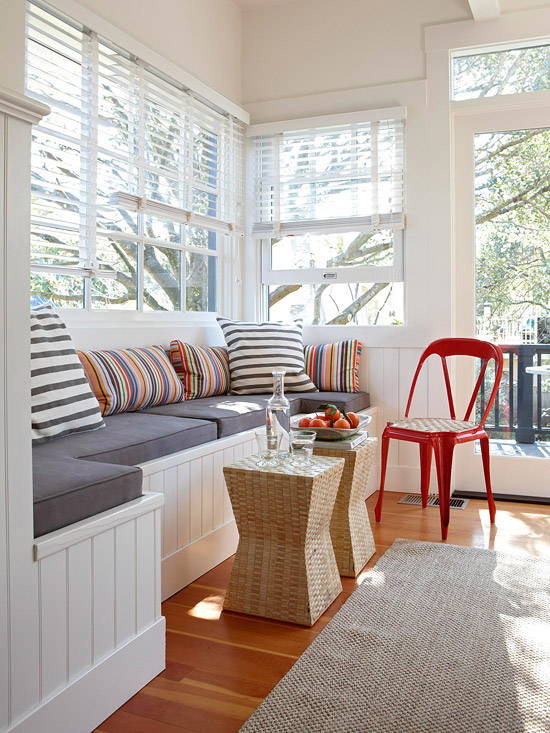 Image Source: Better Homes & Gardens (www.bhg.com)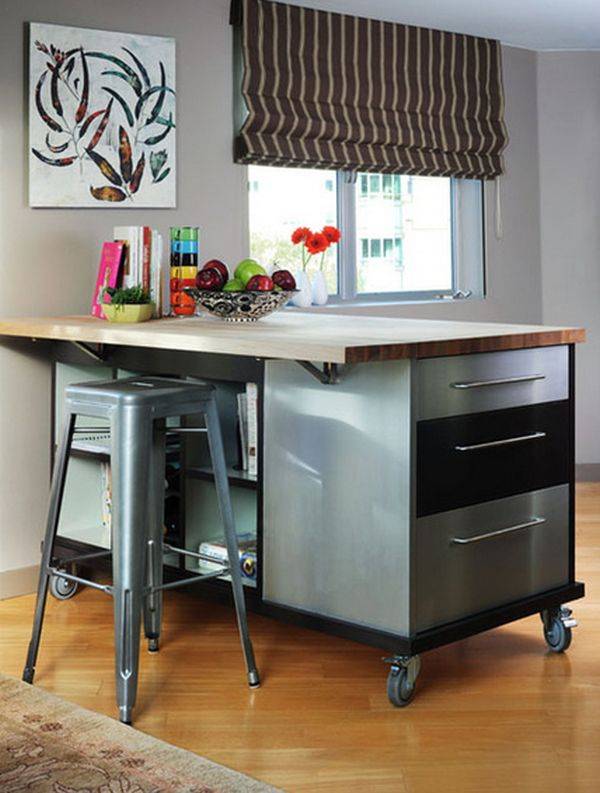 Image Source: Homedit (www.homedit.com)
7. Use Minimizable Furniture Solutions
Minimizable furniture is furniture that has the ability to reduce down from its normal size when not in use, and then easily extend out at a moment's notice. There are many great solutions that fall into the minimizable furniture category, but one of our favorites is the super-intelligent collapsible dining table with an extendable top, able to extend out from a two-seater to easily seat four or more guests.
Another great solution is to install side tables which attach to the wall with hinges, folding down (or up) and into place when needed, and then collapsing to fold away again flat against the wall when not required. This option will take a little extra work to install, and will essentially become a permanent fixture in your home, so it really comes down to the shape and size of your room to decide which option is best for your home. These are just two examples of minimizable furniture, but there are many more great options to choose from including seating and storage solutions.
Using less space for your essential furniture when it is not being used will make a big difference to the amount of actual usable floor space that you have, and in turn make a smaller room feel much bigger.
Shop our Space Savers Collection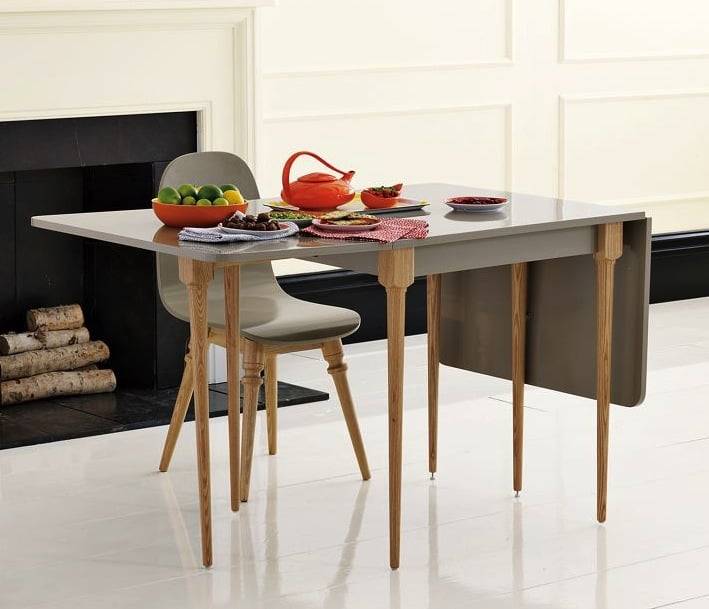 Image Source: Popsugar (www.popsugar.com)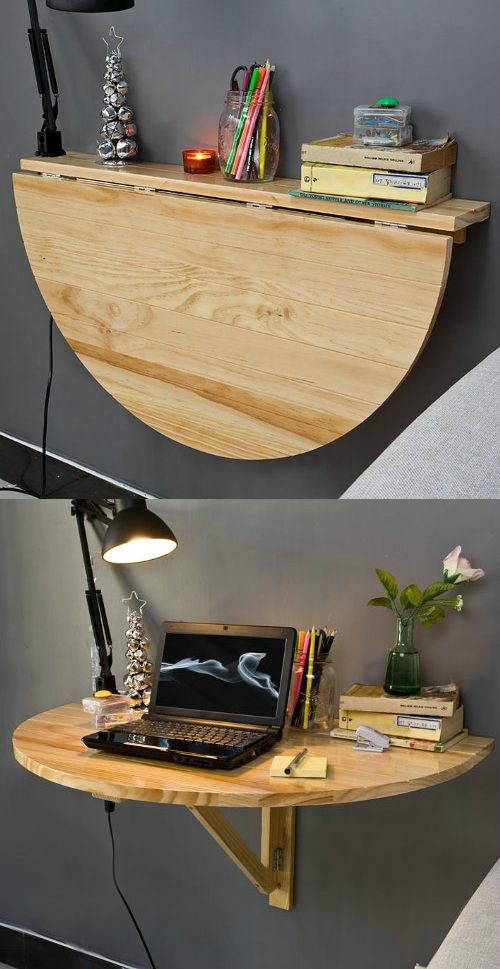 8. Use Furniture with Exposed Legs
Whenever you are dealing with a smaller space or narrow room, using furniture which has exposed legs is a great way to trick the eye into making a room feel larger. By being able to see underneath a sofa that is raised up off the floor on legs, for example, you are instantly given the impression that there is more floor space, and therefore the room feels much bigger. Alternatively, using a raised side buffet or console on legs, rather than those which go all the way to the floor, will reveal the space underneath it, and visually open up the room.
Image Source: HGTV (www.hgtv.com)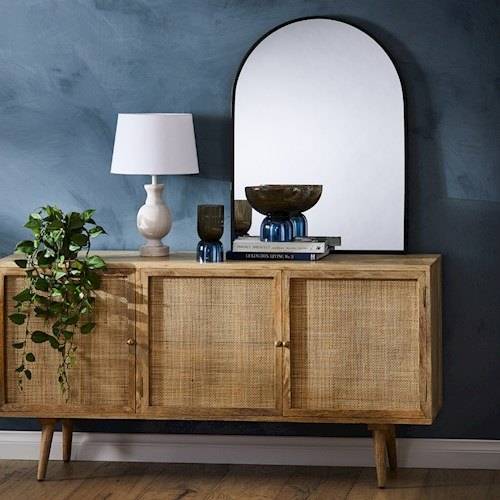 Image Source: Adairs (www.adairs.com.au)
9. Add Super-Chic Clear Furniture
By choosing to add clear furniture to a small room, such as a glass coffee table or Perspex chairs, you will inevitably open up the space, and make it look much bigger. By replacing traditional pieces of furniture that block your view with transparent alternatives, you will be able to see more floor space and the room will appear much bigger. This look is definitely not for all home styles, but will look simply amazing in any Modern or Abstract style setting.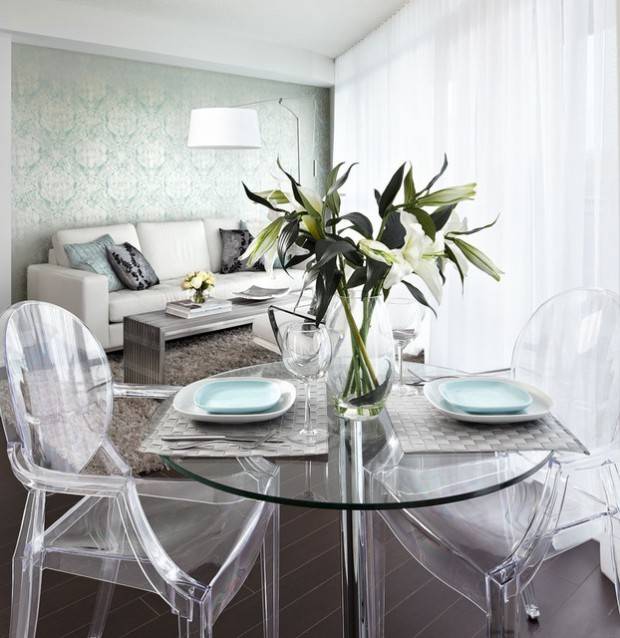 Image Source: Style Motivation (www.stylemotivation.com)
10. Install Floating Wall Shelves
By installing floating wall shelves, and avoiding the use of large side-consoles or buffets which go all the way to the floor, you can essentially free up all of the floor space that would otherwise be taken up by a bulky piece of furniture. For example, in a narrow bedroom where walking space is minimal, it could be a great idea to install a floating shelf on either side of the bed, and use these as a stand to place a lamp or leave your book, rather than using large stand-alone bedside tables. This will not only make the room look much bigger, but the usable floor space will be much greater too.
Shop our Shelves & Wall Storage Collection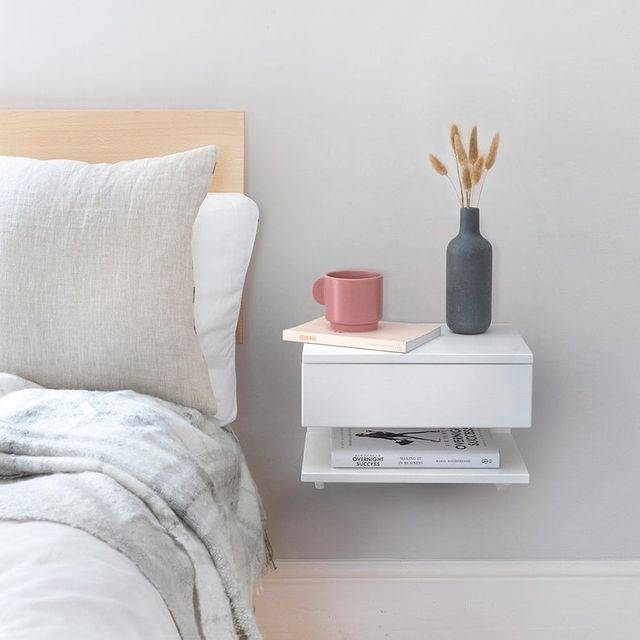 Image Source: Country Living Magazine (www.countryliving.com)
11. Use Hanging Pendant Lights
If space is too tight to use a variety of lamps around your room, another great option is to install hanging pendant lights or wall sconces above, and on either side, of your bed. These will replace the need for bedside table or floor lamps, and will therefore save that extra floor or table space that would otherwise be taken up. This is a solution that is not only functional, but also looks super-stylish at the same time, adding a unique look and feel to your bedroom.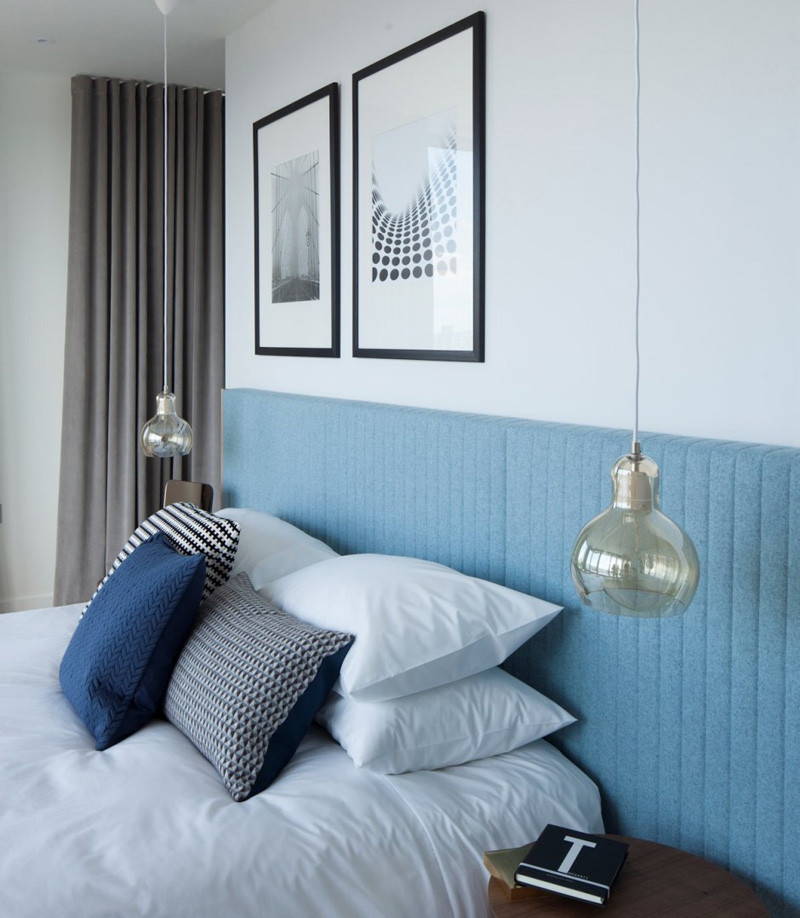 Image Source: Contemporist (www.contemporist.com)
12. Use Lamps to Spread Light Evenly
Lighting plays a large part not only in the way a room looks, but also in the way it feels. And in the case of a narrow room, having only a single source of light can make it look dim and shallow, and inevitably feel small and cramped. To remedy this, we recommend installing more than one light source, helping to spread the light evenly around the room, and therefore visually expanding its dimensions.
One way to do this is to install several small LED down-lights in the ceiling, evenly spaced to spread the light. Another great suggestion is to place several table or floor lamps around the room, making sure that they illuminate all edges of the space. This is not only a much more cost effective way to achieve the same desired effect, but it will also look chic and stylish at the same time, adding extra atmosphere to the room.
Image Source: Ledvance (www.ledvance.com)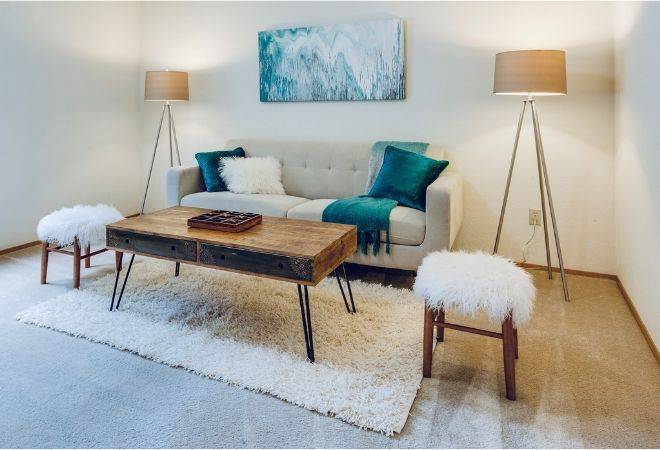 13. Use Mirrors
The use of mirrors to make a small space feel much bigger is a concept that you will see us mention time and time again. But that's because it is one of the single most effective ways to make any room feel instantly larger. This works especially well in smaller abodes, such as Tiny Homes and apartments, where space is tight throughout the home, as well as for narrow rooms in larger houses too. Mirrors not only add depth to a space, but with the right shape and chic design, you will also add huge amounts of character to your walls and a real style of your own to the space.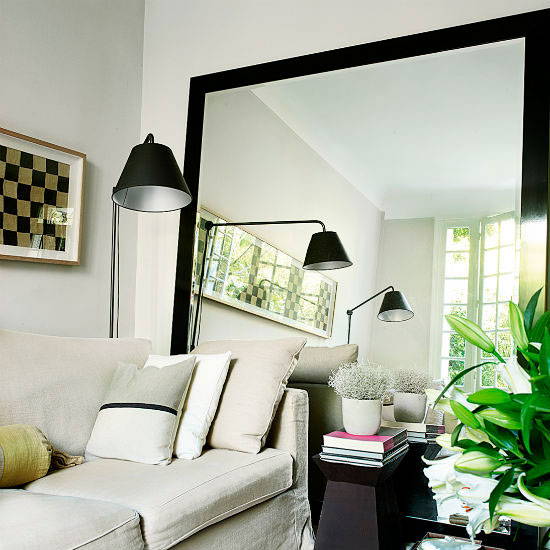 Image Source: Ideal Home (www.idealhome.co.uk)
These are just some great ideas that could help you make your small living spaces feel bigger and become much more functional. Whether you are living in a small apartment, a Tiny Home, or just trying to make the most out of those narrow rooms in a larger house, employing some of these great ideas when planning your next room re-design could be the perfect solution to helping you finally realize your dream home. 
Visit Estilo Living now for all of these, plus many more, solutions for small living spaces!
---